Iain Provan Speaks at Willoughby
Iain Provan Speaks at Willoughby
November 7, 2017

Curtis Meliefste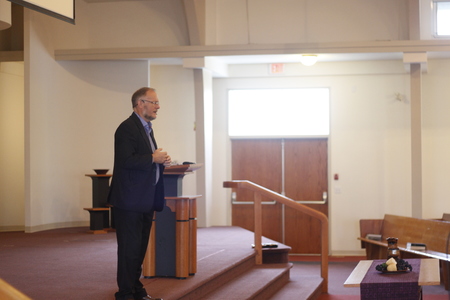 This past Saturday morning, Dr Iain Provan, the Marshall Shepherd Professor of Old Testament Theology at Regent College gave the following 3 lectures:
SESSION ONE:
AN INSPIRED WORD: Why the Bible Can be Trusted

SESSION TWO:
AN IDENTIFIABLE WORD: Seeing through the Fog to the God
Who Speaks Clearly
SESSION THREE:
AN INCISIVE WORD: Our Call to Read Rightly in the World Today
It was a wonderful morning full of history, legacy, and instruction. Each person was blessed by Dr. Provan. A number of people left that morning with a copy of Dr. Provan's new book, "The Reformation and the Right Reading of Scripture".
Contact the church office if you are interested in purchasing a book. There are limited copies still available.
Ministry Faith Formation