Faith Formation
Faith Formation
Faith Formation
Materials to help you on your spiritual journey
Faith Formation
Programs from Back to God Ministries:
Advent Devotional Series
- Looking for more meaning in the midst of a busy Christmas season? This Advent, ReFrame Media offers a special email devotional series just for you. With daily devotions and encouragements from Today, Family Fire, Groundwork, and the fun of Kids Corner, we designed it to help your whole family experience the true wonder of Christmas, the coming Christ. Subscribe at
reframemedia.com/advent
.
GOD LISTENS AND WHISPERS
- When we feel overwhelmed or depressed or unjustly attacked and beaten down by the world, God is ready to listen to our complaints. Join Groundwork as we study 1 Kings 19 to discover our God who listens in our pain, then comforts and challenges us with a whisper. Listen now at
GroundworkOnline.com
and subscribe to Groundwork's weekly emails for future episodes.
TURKEY ROCKET
- In this favorite episode, On Thanksgiving Day, all of Terrene comes out to help to celebrate being thankful, but Liz and the gang encounter some tough challenges and hard times. Can they be thankful regardless of the circumstances? Check out KC's Gifts of Kindness Advent Calendar and Devotional and invite your whole family to join you in giving daily gifts of kindness.
kidscorner.net
Do you know you can get the Today Devotional on your smartphone or tablet? Search 'Today Reframe' in the Google Play or iTunes store to download the free app.
News
---
The November edition of the BANNER is in church mailslots. Additional copies are available in the foyer. Download Full PDF The BANNER is a monthly publication of The Christian Reformed Church in North America.  All... Read More
---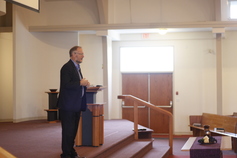 This past Saturday morning, Pastor Ed introduced us to a former professor of his, Dr Iain Provan, the Marshall Shepherd Professor of Old Testament Theology at Regent College.  Dr Provan gave 3 lectures followed by 3... Read More