Cadets
Cadets
For boys grade 2 - 7 - September - May
2016/2017 Theme - Get in the Game
Theme Text:
Hebrews 12:1–2
Therefore, since we are surrounded by such a great cloud of witnesses, let us throw off everything that hinders and the sin that so easily entangles. And let us run with perseverance the race marked out for us, fixing our eyes on Jesus, the pioneer and perfecter of faith. For the joy set before him he endured the cross, scorning its shame, and sat down at the right hand of the throne of God.

Sharing the joy and wisdom of Christlike living with boys is central to the Cadet ministry at Willoughby Church.
Our club is made up of several small groups of about five or six boys. Each group is led by a counselor. Counselors challenge, guide, encourage, listen and counsel the boys as an expression of God's love.
On club nights, boys and their counselors work side by side on Bible lessons, service projects, outdoor activities (camping, cycling, hiking, canoeing, and much more), and merit badge projects (Cadet Badges) -- selecting from a wide range of interests and skills.
Cadets generally meet every other Wednesday evening from 7:00 - 9pm. Click here or contact Mark for more information.
Willoughby Church Cadet Ministry is part of The Calvinist Cadet Corps: an independent (non-denominational) youth ministry organization whose purpose is to provide the local church with a ministry program that will enable them to effectively share Christ's love with boys from their church and community.
Available Files to Download
To download, right-click the file and select "Save link as".
News
---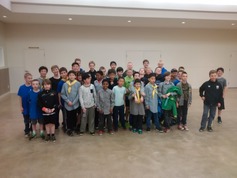 Cadet Sports Day held at Willoughby Church was a hit! The wet weather forced us to move the activities inside the church building, but that didn't dampen our spirits as 6 Cadet clubs from around the Faser Valley... Read More